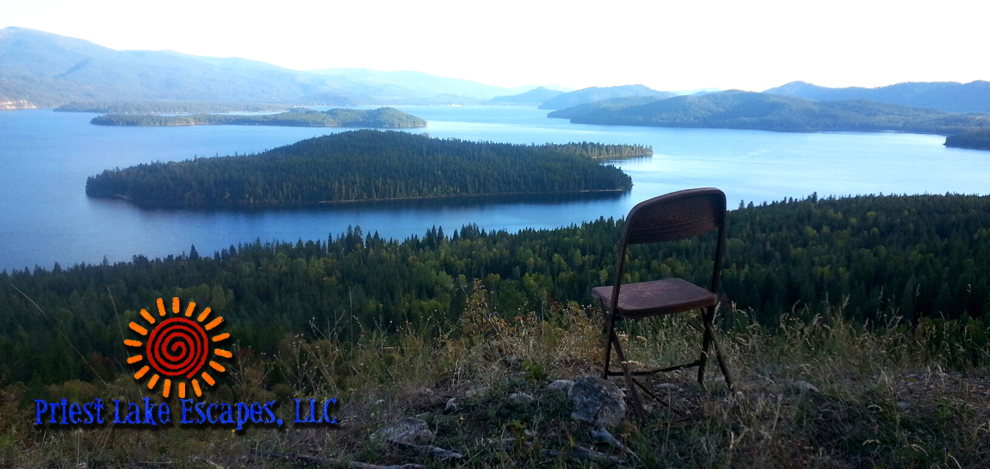 A Pristinely Located Family Vacation Cabin On Priest Lake, Idaho, Sunset Shores
PRICING & AVAILABILITY
MAY thru SEPTEMBER – $2000.00 + tax per Week
AVAILABILITY: Sunday to Sunday
Ask Us About The Stairs To The Cabin
Maximum Occupancy For This Home Is 6 People
A $75.00 non-refundable inspection & garbage removal fee is charged
CONTACT US:
vacations@priestlakevacations.com

Sunset Shores is located on the northeast side of Priest Lake in the shadow of Chimney Rock. It has a large deck overlooking Priest Lake. While enjoying complete privacy, with a quick boat ride across the lake a 5 star meal can be found. Huckleberry picking is abundant in this area and the sunsets are life changing.
LIVING ROOM – The living area has a click-clack futon Hide-a-bed couch, cozy chairs and has a TV with DVD/VCR for movies on the occasional rainy day.
KITCHEN– The Kitchen/Dining area is an open floor plan with table and chairs. The kitchen is equipped with all the amenities needed. Sorry, there is no dishwasher.
BEDROOMS – Two Bedrooms. The main has a Queen and a separate entrance for privacy or convenience. The second has two Double beds.
BATHROOM – There is one bath with a shower and tub.
TELEPHONE –New (2020) Verizon tower at Reeder bay, about 2 miles away, provides mobile phone service in and around the cabin for Verizon customers.
OUTDOORS – The deck has the most awesome view with a nice set of table and chairs. You really won't need to go indoors at this location. Endless trail options for hiking, biking, or riding, massive huckleberry bushes within minutes, crystal clear water, record mackinaw trout catches, and the list goes on. Come see Priest Lake from Sunset Shores, in the Diamond Park Addition, (named for Diamond Match Company)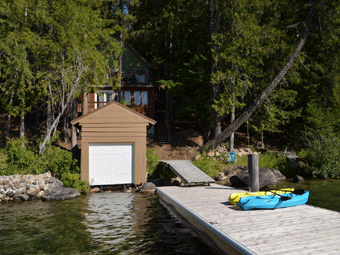 For more information and reservations contact
Priest Lake Escapes at:
vacations@priestlakevacations.com
Outdoor Furniture & Propane BBQ Provided
-NO PETS –
– NO TENTS – As per Bonner co. 
-No SMOKING –
– No RVs –
– No Firepit-
PROPANE BBQ IS PROVIDED
VISA, MASTERCARD and DISCOVER Accepted  
 
 
PRIEST LAKE CHAMBER 
OF COMMERCE
MEMBER SINCE 2000
 

© 2011, Priest Lake Escapes LLC. All rights reserved