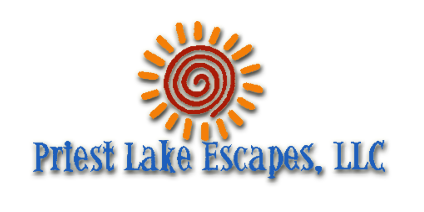 By renting a property from Priest Lake Escapes LLC,
renter agrees to the following:
All refunds or credits to VISA/MC will be subject to a 5% fee.
* The property is reserved upon receipt of a reservation payment in the amount of 1/2 the total rental price & our signed contract by the date designated on the contract. This fee is refundable only when the tenant gives 60 or more days notice of cancellation. Should the tenant cancel giving notice of less than 60 days, the reservation payment will not be refunded unless Priest Lake Escapes LLC is able to rent the property to another party. We will make every effort to rent the property to someone else in which case your fee will be fully refunded.
* 8% Idaho tax (6% sales plus 2% tourism tax) and a $50.00 non-refundable cleaning inspection and outdoor garbage removal fee are not included in the rental price and will be added to the bill.
* 60 days prior to occupancy, the following is due:
a) Balance of the rent, taxes, & fees.
b) Damage deposit in the amount specified on the contract. Which will be refunded after the property has been inspected by Priest Lake Escapes LLC, & no damage is determined to have occurred.

c) $200.00 cleaning deposit (NOT TO BE CONFUSED WITH A CLEANING FEE.  WE ARE NOT A CLEANING SERVICE AND  YOU ARE RESPONSIBLE FOR CLEANING in addition to damage deposit, which will be returned if the home is left in same clean condition as upon arrival.  We do a hands on inspection just after your departure.
---
* For the safety and enjoyment of everyone, please abide by the following house rules:
* Enjoy every minute of your time while visiting our beautiful lake!
* Check-in time is 4:00 p.m., Check-out time is 11:00 a.m.
Please respect these times as the logistics of us getting everything prepared for
the next renters sometimes takes every minute we have, especially if someone
doesn't do what they are supposed do and we have to fix it.
* Tenant shall not sublet the premises.

* Tenant shall not exceed the maximutm occupancy allowable for specific property.

* Tenant shall not exceed the maximum number of allowable vehicles for specific property.

* Septic system: It is very important that nothing be flushed down the toilet other than toilet paper (no paper towels, napkins, feminine products, toilet paper only!)

* Please be respectful of the 10p.m. – 8a.m. quiet hours, as this is a quiet residential area of people who are enjoying their vacation too.

* No RVs, Campers or Tents Allowed Due To County Vacation Permit Rules.

* No smoking indoors.
* Pets are allowed ONLY in properties designated as "Pets Allowed".

* Fires in fire pits, and indoor fireplaces must never be left unattended. Please be sure fires are completely extinguished.
* Tenant shall leave the home in same clean condition as upon arrival.

* Tenant shall not violate any county ordinance or state law in or about the premises.
TERMS & CONDITIONS:
The cabin and facilities associated with the use of the cabin are used solely at the renters risk and anyone using the property in association with this rental agreement. The property owner and/or Priest Lake Escapes LLC will not be held liable for any injury or death associated with the use of the property under this agreement under any circumstances. The renter is aware that this is a recreation area that may not have all the safe guard to ensure hazard free enjoyment and due care and caution is advised at all times. Should the unit become unavailable due to circumstances beyond the control of Priest Lake Escapes LLC, Priest Lake Escapes LLC will notify the tenant immediately and refund all monies paid.
We accept payments of:
VISA/MC, DISCOVER, CASH, PERSONAL CHECK, & MONEY ORDER