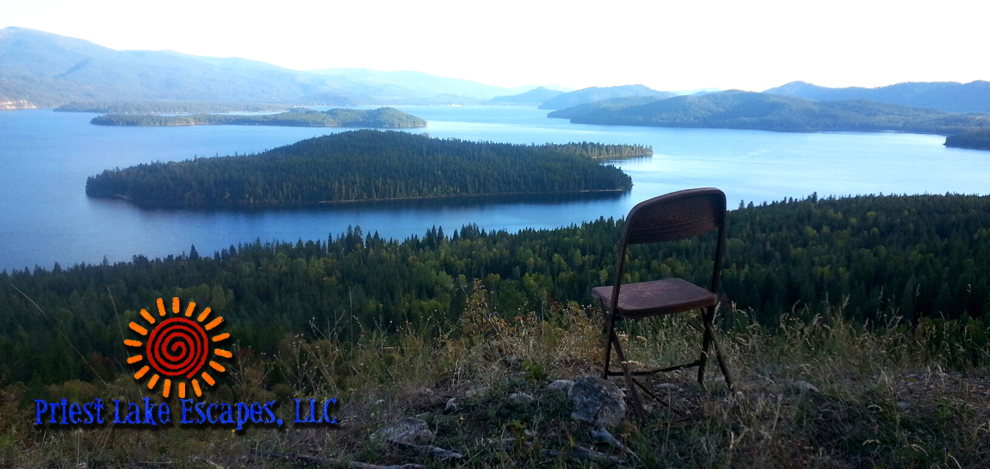 Priest Lake Escapes Welcomes You to 39 Diamonds on Priest Lake, Idaho
PRICING & AVAILABILITY
June, July and August – $1650.00+ tax per Week
NIGHTLY RATE-IF AVAILABLE-$245, 3-NIGHT MIN.
AVAILABILITY: Sunday to Sunday
Maximum Occupancy For This Home Is 8 People
A $75.00 non-refundable inspection & garbage removal fee is charged
CONTACT US:
vacations@priestlakevacations.com

39 Diamonds has a spacious layout with a western exposure in a protected cove. The large trees to the west provide respite from the late evening heat yet don't block the fantastic views of Twin Island and the Selkirks.
THE LIVING ROOM – There is ample seating to enjoy the spacious views of the lake through the large front windows. A slider opens onto the spacious deck with gas BBQ and a full length bench built into the railing.
THE KITCHEN – Large, open, and airy, as well as equipped with oven, microwave, refrigerator, coffeemaker, dishwasher, utensils, cookware, etc. There is everything you need to prepare the days catch or your favorite recipe.
TWO BEDROOMS – The master bedroom is fitted with a queen bed.. The guest bedroom has two twin beds.
BATHROOM – One bath with tub shower combo and nice vanity.
TELEPHONE – There is no phone service at this home. There is moderate cell service in the area.
LAUNDRY- Under Repair.
For more information and reservations contact
Priest Lake Escapes at:
vacations@priestlakevacations.com
–This cabin utilizes Priest Lake for a water source. Although it is clean enough for most uses, it is suggested that you bring bottled drinking water.
NOTE: THERE IS NO DOCK AT THIS CABIN.
PLEASE DO NOT USE OR ASK TO USE EITHER
NEIGHBOR'S DOCK. IT'S NOT OK!!!
-NO PETS –
– NO TENTS – As per Bonner co.
-No SMOKING –
– No RVs –
VISA, MASTERCARD and DISCOVER Accepted  
 
 
PRIEST LAKE CHAMBER 
OF COMMERCE
MEMBER SINCE 2000
 

© 2011, Priest Lake Escapes LLC. All rights reserved